Post by James Phoenix on Nov 14, 2008 22:20:43 GMT -5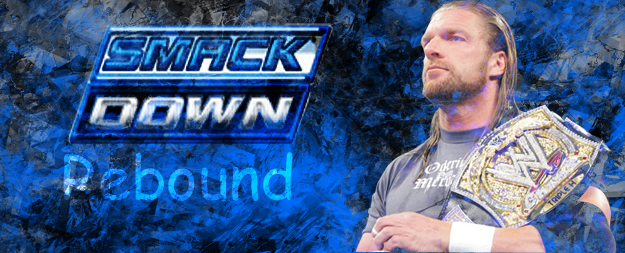 Friday Night – November 14th, 2008 – United Kingdom
Show Opening:
[The show opens with footage of last weeks tag team main event]
The Undertaker's gong is heard as the show opens. There is a casket in the center of the ring and the blue lights are on. Undertaker's voice can be heard. He says that some men are born into the darkness in all its fury. They are the true bringers of punishment. Then he says some foolishly come looking for the darkness, blind to its fury. He says he is the punisher full of darkness and Big Show has found him. He says this is his final resting place. He adds that Show will feel his pulse quickening and will have no sight, and there Taker will punish him for all his sins. He says that he will be beaten by his own hand, and once he is buried 6 feet under, Taker will drag his soul down to the depths of hell. After he says this, the casket opens to reveal Undertaker inside.
Jeff Hardy appears on the screen, but we can't see his face at first. When he looks up, he is wearing come kooky glow in the dark face paint. He says he should be concerned about tonight and should be concerned about him, Jeff Hardy. He says he's sorry for interrupting him and for what? Being himself and being human? He says he's tired of being sorry. He says Taker may see the world as light and dark, but Hardy sees the world in shades of gray. He says that this is what allows him to do what others can't. He says that he has lived his whole life on the edge and this has built up rage and frustration over the years. He says that all that rage will be unleashed on Undertaker tonight and he will be taken to the Extreme.
Taker raises a microphone. He responds "So it will be Jeff Hardy. Tonight, you will Rest… in…Peace". His eyes roll back with this last word.
[JR and Tazz promote the night's matches]
Matt Hardy comes to the ring followed by Shelton Benjamin. Hurricane Helms appears with a Hurrapop as Shelton Benjamin comes to the ring. He comments on his hair saying that Shelton looks like the love child of Gary Coleman and Hacksaw Duggan. He's just saying.
Match #1: ECW Champion Matt Hardy vs. US Champion Shelton Benjamin:
They lock up and Shelton takes hardy down. He applies a headlock until hardy whips him off the ropes. He comes back with a shoulder block and a lateral press and then goes back into the headlock taking Hardy to the mat. Hardy reverses into his own headlock but Shelton reverses with an armbar. He then attacks Hardy's shoulder but he fights bac with rights and lefts. Hardy whips Shelton off the ropes, hits the back elbow, and picks up a near fall. Hardy then applies a hammerlock on the ground. The fans begin a Hardy chant. Shelton tries to roll out but Hardy holds the lock in. He scores a near fall. They get to their feet and Shelton goes for a body slam. Hardy reverses and scores a near fall. Hardy goes back into the armbar but Shelton uses the ropes to flip himself free. Hardy counters with an arm drag.
- Commercial Break #1 -
Hardy comes down from the top torques his knee as he slams Shelton and scores a near fall. He goes for a suplex but Shelton counters. Hardy tries to counter back but Shelton kicks him in the leg. He then applies a leg lock. He breaks the hold and then drags Hardy to the apron. He attacks his knee standing on the floor. He gets back in the ring, then launches over the ropes and drops an elbow onto Hardy's legs. He climbs back in and scores a near fall. He then locks a leglock back in. he then goes for a spinning leglock. Hardy throws some rights and gets free, then manages to hit a side effect out of nowhere and scores a near fall. He knocks Shelton the ring and hits the combination clothesline crush into a headlock bulldog to score another near fall. Shelton goes for a dragon kick but misses. He comes back and hits an insuguri and scores a near fall. Shelton hits a splash and goes for another but Hardy reverses, hits a modified side effect, and scores a near fall. Shelton goes for Paydirt but Hardy reverses and tries for a twist of Fate. Shelton reverses this and hits an inverted back breaker. Hardy reverses and takes Shelton down before going to the top, hitting a moonsault, and scores a near fall. Shelton goes for a leglock but Hardy reverses and goes for the Twist of Fate. Shelton reveres and Hardy reverses back going for a near fall. Shelton reverses this and applies a single leg Boston Crab. Hardy gets free and hits the Twist of Fate out of nowhere to pick up the win.
- Commercial Break #2 -
[When we return, we see SDvR 2009 footage of Undertaker vs. Jeff Hardy, followed by a promo for the actual match.]
Match #2: The Brian Kendrick vs. Carlito:
They lock up and Kendrick applies an abdominal lock. He tries to get leverage but Carlito breaks free and switches into control of a hold on Kendrick. He then flips him to the mat and a holds a headlock until the referee breaks them up. Carlito flips up as Kendrick gets to his feet. They lock up again and Kendrick kicks Carlito in the quadriceps several times knocking him into the corner. Carlito comes back with a clothesline and then stomps Kendrick down in the corner. Kendrick whips Carlito off the ropes after the referee pulls him back, Carlito flips backward off the ropes and then rolls him up for a near fall. Kendrick hits some more kicks and then flips Carlito to the ground and drops a knee on his arm. He applies an armbar as Carlito fights up. He is whipped off the ropes but reverses Kendrick, hits a swinging neck breaker, and drags Kendrick back in as he tries to leave. He scores a near fall. Carlito is distracted by Zeke and Kendrick takes control. He kicks him in the corner until he falls and then applies a modified Camel Clutch. He kicks Carlito in the corner a few more times and then runs at him but Carlito moves. Kendrick crashes and Carlito hits a shot to the gut and a running knee lift. He hits a back elbow and scores a near fall. He dropkicks Kendrick into the corner when suddenly Zeke "freight trains" (running shoulder blocks) Primo outside the ring, distracting Carlito. Kendrick takes advantage by hitting The Kendrick and picking up the win.
- Commercial Break #3 -
[When we return we see a promo for Kizarny]
[We then see a promo for John Cena's return]
WWE Title Match Contract Signing:
Vickie and Chavo Guerrero are in the ring. She garners massive heat as she screams Excuse Me! She says that at Survivor Series, the WWE Championship will be defended when Vladimir Kozlov will challenge Triple H. She says that she has invited both these men into her ring tonight, on the condition that there will be no physicality between them during the contract signing.
- Commercial Break #4 -
Vickie has to say Excuse Me again when we return. She welcomes us to the official contract signing for the WWE Title match at Survivor Series. She makes note that if Jeff Hardy does what he promised tonight, and takes out The Undertaker, he may be added to the title match. However, for now the match is between two of the top stars and is a match so colossal that is deserves to be on her show, SmackDown. She introduces Kozlov to massive heat. She then introduces Triple H who gets a ridiculously massive pop.
Triple H picks up his mic and says that he just wants to say that being in this ring right now is kind of special. He says it is kind of like the United Nations right now. He says that they have a Russian representative (Kozlov), a Mexican representative (Chavo), and a representative from Fattslvania (indicated Vickie). He then says he was just joking and that she is really from Bulge-garia. He then says he's joking and she is from Chunkyslovakia. Vickie interrupts him and asks if they can get back to business and Triple H apologizes and tells her she can start.
Kozlov speaks on Russian for a moment and Triple H asks if anyone picked that up, then says that no one understood him. Kozlov tells him to shut up, but Triple H tells Kozlov to shut up and listen. He says that he knows the real story and that Kozlov can give him those mean Russian eyes all he wants.. See, he has been champion before and has main evented a PPV with the title on the line before. On the other hand, this is Kozlov's first go round. He says that he knows the nerves are building up right now…..
Suddenly, Jeff Hardy is on the top rope, leaps off, and slams Kozlov face first through the table. Triple H backs off as Hardy grabs the contract, tears it up, and throws it his face. Hardy is still wearing the kooky face paint that makes him look like some kind of ghost thing. Hardy leaves as Triple H watches him from the ring and JR and Tazz promote his match.
- Commercial Break #5 -
Match #3: MVP vs. Kung Fu Naki:
They lock up and MVP throws Naki into the corner. He then flips him over and attacks his arm. Naki comes back with some kick but MVP hits a neck breaker. Suddenly, The Great Khali's music hits and he and Ranjin come to the ring. MVP turns around, is hit with a Crane Kick, and Kung Fu Naki picks up the win.
Khali Kiss Kam:
Khali gets in the ring with Singh and then nails MVP in the head with a huge right hand.
Ranjin then says its time for the UK Kiss Kam. He searches the crowd and chooses yet another large woman, this one slightly older. Khali punches MVP again as he tries to get up. Ranjin calls her a real looker and says she Is voluptuous and well proportioned. He says that she is what the Great Khali calls a Cougar. He asks if she is ready and when she says she is, he starts a Khali chant to encourage him. Suddenly, MVP gets up and Khali hits him with a Khali Bomb. Ranjin then re-cues the music and chant but Khali doesn't kiss her. Ranjin says Khali is feeling generous tonight, and so he wants her to have a very special kiss, from MVP!! She kisses him after which MVP freaks and leaves the ring.
- Commercial Break #6 -
[When we return, we see the Smack of the Night, which is footage of Maria winning her Diva's Title shot]
Match #4: WWE Diva's Title - Michelle McCool vs. Maria:
They shake hands and then lock up. Michelle applies a headlock and takes Marian down. Suddenly, Jesse and Festus come to the ring. Festus is holding a teddy bear. Maria dodges Michelle and then flips her across the ring. Michelle trips her into the corner and then slaps her. Michelle whips her into the corner again but Maria hits a back elbow. Maria hits an insuguri and scores a near fall. She throws rights and lefts and then whips Michelle off the ropes. Michelle tries for a roll up but ends up into a hell hook into an ankle lock which Maria taps out to.
When the bell ring, Festus transforms and chases Michelle from the ring. When Maria gets up, Festus gives her the teddy bear and she smiles.
- Commercial Break #7 -
[When we return, we see the Raw Rebound. It is footage of Monday nights Last Man Standing match]
[JR and Tazz then promote the Survivor Series lineup]
Jeff Hardy comes to the ring for his match to a massive pop, still wearing the kooky face paint. [We then see footage of him interfering in the contract signing]
- Commercial Break #8 -
The Undertaker makes his entrance when we return.
Match #5: Extreme Rules – Jeff Hardy vs. The Undertaker:
Hardy goes off the ropes and hits some rights. Taker counters with a boot to the face and then goes for an elbow drop but Hardy dodges. Hardy dumps Taker over the top but he lands on his feet. Hardy runs along the fan barricade and takes Taker down. He then tries it again from the other side but Taker catches him and slams him back first into the steel steps.
- Commercial Break #9 -
When we return, we see Taker throwing rights at hardy in the corner. [We see footage of Taker slamming Hardy back first into the steel ring post during the commercial] Taker dumps Hardy outside the ring. He then hurls Hardy at the fan barricade which flips Hardy upside down in the process. Taker throws Hardy most of the way back in the ring and then nails a right hand to the face. Taker then grabs a steel chair and lays it on top of Hardy. Taker then climbs to the apron and hits a legdrop onto the chair and Hardy. He then grabs Hardy and slams him face first into the steps. Hardy grabs a kendo stick, stagger over while leaning on the announce table, and hits Taker between the eyes with it. He then hits him three more times before following him into the ring and nails him in the spine. Taker retaliates with a huge boot to the face and then the kendo stick to the face sending him flying through the ropes and to the floor. Taker follows him and hits two head butts. He then runs at Hardy leaning on the barricade but he dodges and Taker lands split legged on the wall. Hardy throws some rights and lefts but Taker comes back with one huge right sending Hardy on the floor. Taker picks Hardy up and tries to ram his face into the ring post but Hardy slides free and dodges a clothesline before slamming Takers face into the steps. He then knocks Taker to the security wall before launching himself off the steps and taking Taker into the wall and himself over it to the concrete floor. Both men get up, throw some rights, get in the ring, and taker scores a near fall. Taker goes for Old School but hardy counters and takes him down. Hardy then climbs under the ring and opposite out the other side with a ladder. He climbs in the ring but taker kicks the ladder in his face. He then slams it into him in the corner. Hardy is whipped to the corner but he counters with a Whisper in the Wind. Suddenly Big Show runs to the ring, tosses Jeff from the ring, and then attacks The Undertaker with a chokeslam. Hardy manages to get to the top rope and jumps at Show but is caught. He manages to hold Show half on the ropes as Taker grabs a steel chair and nails Show in the back with it. He flips over the top and to the floor as Hardy slides under the ropes and back into the ring. He nails Taker with the ladder and then sets it up in the corner. He launches himself from the top rope, over the ladder as a springboard, and hits a huge legdrop on The Undertaker to pick up the win.
Hardy gets while the getting is good, as Taker sits up a few moments later. He heads out back and we see him stagger through a doorway. We hear slow clapping and Vickie Guerrero is seen clapping from her chair with Chavo behind her. She says it was an impressive victory, but she never offered him the same deal as she did to Vladimir. She says that therefore, next week Jeff Hardy will take on Triple H in a non-title match, and if he wins then she will make the Survivor Series main event a Triple Threat match. Hardy says that's fine and he will beat Triple H. He then warns that if he does and she doesn't put him in the match, then he might just go Extreme on her.
SmackDown, its Logo, and All Related Material
Copyright © World Wrestling Entertainment Inc. 2008